Hello everyone! I've finally set up my Etsy shop even though the link to it's been sitting on the sidebar for a few days already. I haven't listed much yet, but when I get more craft materials and a better handle on my schedule, I'll be adding much more to it.
The only thing I currently have in my shop is a customized espresso cup and plate set with hearts... I currently have a few in stock that I've already finished painting (with the exception of the plates, which I've left open to my clients to customize with their own text). I don't quite know where I'm going with this shop business yet, but hopefully I'll get a better handle of it soon.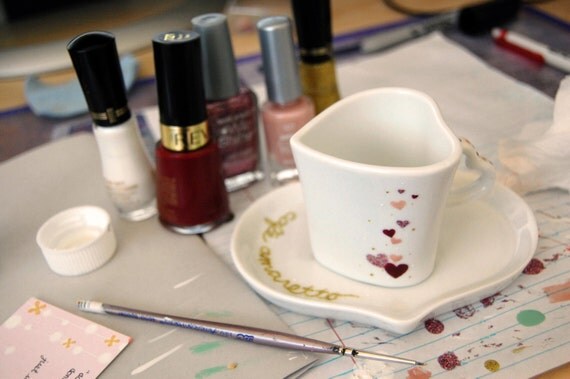 sample image with "cafe amaretto" on the plate!
I am by no means a professional. Please note that I've painted the ceramic ware with nail lacquer and I do not intend for these gift sets to be anything more than decoration. u_u
❤ muramin